I have lately been reading a lot of blogs, where I have discovered and followed some amazing blogs.
However at times, it is a bit difficult to find some new blogs, as sometimes you get into a circle of blogs where everyone is following each other! This is great, but I do believe that the more varied the blogs, the better this blogging experience will be.
Whilst going through quite a few blogs, I discovered the amazing world of blog hopping!
I have sincerely never heard of this before, but I have tried it, and will definitely keep on blog hopping.
The concept behind blog hops is simple, you just join the blog hop of that particular week (they all start on different days), where your blog is added to a list of other blog hoppers. From there you always get to find new blogs, as new blogs are always joining and apart from that, you also get to have your blog introduced to a larger number of readers and possibly followers!
To join these blog hops, there are a few simple rules, but nothing out of this world is requested. Blog hops usually last a week, therefore fresh new blogs join each week.
To this day I have joined the following blog hops: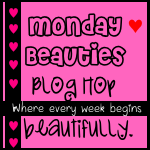 Check them out because they are really great !!
Do you know about any other blog hops?
If yes do share the links in the comments :)
Thanks for visiting my blog
for all your lovely comments !!